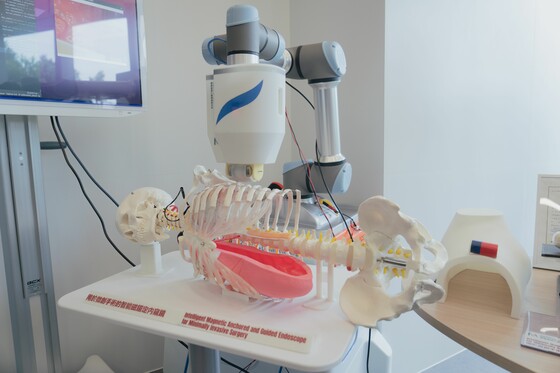 Conventional laparoscopes are not suitable for single port surgery as they limit the surgeon's field of view and may collide with other instruments. They also occupy much port space and hence bigger incisions or additional port is required. Single port approach for video assisted thoracoscopic surgery (VATS) is particularly challenging, as the chest cavity is reinforced by the ribcage and cannot be expanded by insufflation. A possible solution is using magnetic linkage to replace the physical connection laparoscopes.
Concerning these problems, the project has developed an intelligent magnetic anchored and guided endoscope. The system includes a robot controller and a magnetic anchored endoscope. The robot arm controls an external magnet above the patient's chest. The magnetic force guides the endoscope just beneath the chest wall, providing multiple perspectives for surgeons. Because magnetic device is difficult to control manually, A.I. assisted instrument detection is paired with the robot controller. This allows the system to track the surgeon's tools autonomously, so surgeons can work intuitively without worries of endoscope control.
Magnetic anchored endoscope has more freedom inside patient and offer better views for surgeons. The endoscope can be inserted without occupying the access port, which is ideal for single port surgery. Because the endoscope is located just beneath the chest wall, away from other instruments, collisions can be prevented. If needed, multiple endoscopes can be deployed simultaneously to offer multi-view of surgical targets. Unlike other magnetic anchored endoscope reported in literature, this system offers autonomous instrument detection and tracking, thus overcoming the limitations such as inaccuracy and fatigues of manually controlled devices. This system was awarded with the Bronze Medal in the International Exhibition of Invention of Geneva 2021 and the Gold Award in EMedic Global 2019. The design was also granted with the US patent US 2019/0159668 A1, and the Chinese patent CN 108778092A.
UP NEXT
2.1 Magnetic-guided Endoscope (MGE) for Complete Small Bowel Examination and Diagnosis and Treatment of Small Bowel Diseases