Advances in robotic platform technologies are transforming endoluminal surgeries. With the aid of endoluminal multiscale robotic platforms, surgeons will be able to perform complex surgical tasks within the lumen of hollow visceral organs, including the upper and lower gastrointestinal (GI) tract, oral and nasal cavities, bronchus as well as urinary tract.
Over the past two decades, novel technological developments have broadened the horizon of therapeutic endoscopy. From researches at the Chinese University of Hong Kong, the MRC research team established endoscopic treatment to replace surgery as the primary treatment of bleeding peptic ulcers, and pioneered endoscopic resection with the technique of endoscopic submucosal dissection (ESD) for treatment of early GI cancers. While ESD was shown to achieve similar oncological clearance compared to conventional surgery, the performance of ESD is technically challenging. The concept of Natural Orifices Transluminal Endoscopic Surgery (NOTES) further challenged the performance of conventional flexible endoscope and triggered researches on redesigning the endoscope and therapeutic tools. In this regard, the MRC research team first developed a prototype endoscopic suturing device – Eagle Claw, which was preclinically proven to be safe and effective in achieving hemostasis for massively bleeding ulcers and gastrotomy closure. To date, the team has already developed a prototype robotic arm capable of completing ESD procedures including tissue retraction and dissection through preclinical live animal studies.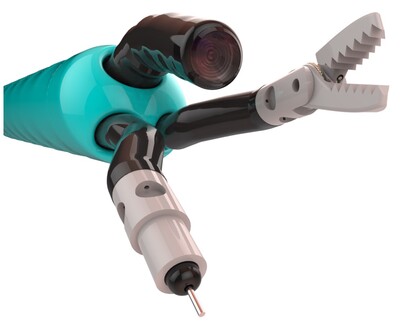 Riding on the MRC's track record in robot-assisted endoscopic surgery, this programme will further enhance the development of a proof-of-concept robotic endoscope for endoscopic surgery and mark a new milestone in technological advancement for cancer surgery. The MRC hopes to establish a platform to enable development of future technologies for transforming invasive and risky cancer surgery into minimally invasive and safe procedures.
UP NEXT
Programme 2: Magnetic-Guided Endoluminal Robotic Platform